Florida Certified General Contractor Since 2006
We are a general contractor by profession, but a partner at heart.
It's not just construction, IT'S OUR PASSION
S3S Construction is owned and operated by a Florida Certified General Contractor who has completed a diverse portfolio of residential and commercial projects since 2006. We respond to each client's unique needs with professionalism and honesty. Our passion is to create spaces that leave a lasting impression on our clients long after the construction is completed.
Our mission does not stop at just building structures, but more importantly, we build lasting relationships. Our clients become friends to us, and partner with us by connecting us to others who are looking for an experienced contractor. Our clients value our attention to details, commitment to excellence and our ability to complete projects within budget and time.
If you are thinking about the next step in completing the space that you've always wanted, or creating a new space, call us at 954-801-7363 and we will gladly meet with you.Our network of professionals includes architects and engineers who are ready to turn your vision into reality.
So, go ahead and make the next move. You have nothing to lose. Just a lot of space to love.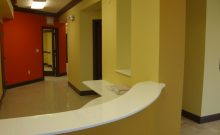 Office Buildout – Lauderdale By The Sea
December 16, 2011 - 1:07 am
December 16, 2011 - 1:06 am
December 16, 2011 - 12:59 am
Executive Office Renovation
January 16, 2011 - 1:06 am